DECK COATING (SUNDECK COATING)
Sky-Side is a certified applicator of pedestrian traffic coatings, vehicular traffic coatings and liquid waterproofing membranes from the best manufacturers of high quality products in the industry. From Dam proofing of building foundations to complete pool waterproofing, we are experienced contractors.  We have a specialized team in liquid applied waterproofing coatings.  If you need dam proofing foundations,  waterproofing sun deck, decks, elevated decks, waterproofing balconies,  exterior parking lots or simply waterproofing roof deck; we can help.
We have systems for different applications:
- Interior and exterior parking lots
- Balconies
- Sundecks
- Decks
- Roofs
- Green roofs

No matter what the substrata is (plywood, concrete, steel), we have the experience of a specialized team in liquid applied waterproofing and traffic coatings.
Traffic coatings? waterproofing?... we can help, call us.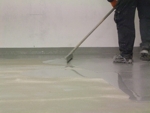 We are familiar with most types of materials manufactured by well recognised manufacturers like: Basf, Tremco, Duradek, Carlisle, International Polymer, Mer-Ko, UPI, Multiseal, Siplust, etc. There are hundreds of waterproofing systems in the market , each of them designed for a specific use and application. If you need advice, call and allow us to evaluate your project.
If your project demands LEED compliance or you are looking for the highest level of performance on high traffic areas... we can help. We have heavy duty products for which we offer up to a 10 year warranty.

When applied to concrete surfaces, our service includes the preparation of the concrete to receive the coating to SSPC-SP 13 / NACE No. 6 – shot blasting. Our equipment can prepare up to 20,000 sf in a day.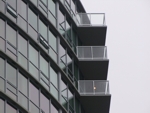 Our work includes the sealing of cracks, corner joint of walls and slabs. For vehicular traffic coatings we offer our 85mil thickness with 10-30 silica sand finishing.

Up to TEN (10) year warranty is without question the best warranty available in the industry.
*Warranty time is subject to the coating material and substrata
Sky-Side is bonded and insured